As the temperatures drop and the cosy season sets in, it's the perfect time to prioritise nourishing meals that bring warmth and well-being to your family's table. During winter it's crucial to nourish our body with wholesome and nutritious meals that not only warm us from within but also promote optimal health.
In this blog post we will explore a variety of delicious and nutritious recipes designed to keep your family warm, satisfied, and healthy throughout the winter season. From hearty stir fries to comforting curries and nourishing noodle bowls, discover the power of wholefood ingredients from two experienced chefs.
Join us as we embark on a journey of culinary delight, fostering togetherness and wellness at the family table this winter. Continue reading 'Melbourne Meals: Healthy ways to eat with the family this winter' for more inspiration.
Five Home Cooked Meals to enjoy with the family
When it comes to home cooked meals, there are several key factors to consider for optimal health and well-being. Here are some things to look for:
Balanced Nutrition: Ensure that your cooked meals contain a balance of macronutrients which includes carbohydrates, fibre, proteins, and healthy fats. This ensures a well-rounded and nourishing meal.
Whole Foods: Choose meals that incorporate whole, unprocessed foods as much as possible. These include fruits, vegetables, whole grains, lean proteins, and healthy fats. Whole foods provide essential nutrients and are generally lower in added sugars, additives and preservatives.
Variety: Aim for a variety of colours, flavours, and textures in your meals. This helps ensure a diverse range of nutrients and prevents dietary monotony.
Here are Five Home Cooked Meals to enjoy with the family: 
1. Beef & Black Bean, Stir Fry Veg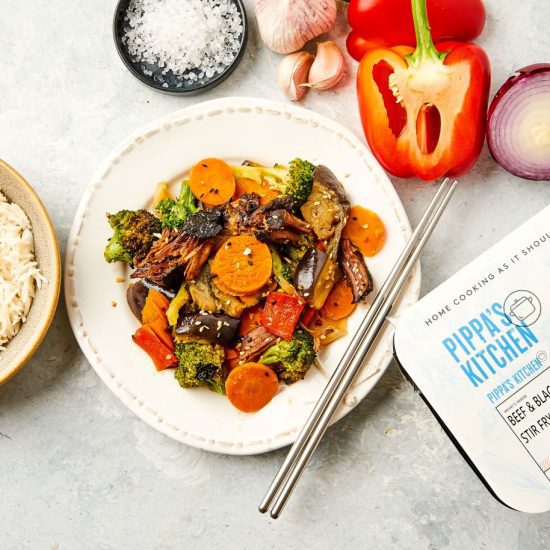 Indulge in the delectable flavours of our Beef & Black Bean Stir Fry Veg. This satisfying dish features tender slow-cooked beef bathed in a savoury black bean sauce, perfectly complemented by a colourful medley of stir-fried vegetables and sprinkled with toasted sesame seeds. Not only is it packed with flavour, but it's also low in carbs, making it a guilt-free choice.
Enjoy this gluten-free and dairy-free delight, crafted with a blend of ginger, garlic, onion, carrot, black bean sauce, red capsicum, beef chuck, sesame oil, eggplant, and broccoli. Treat yourself to a fulfilling meal that hits all the right notes, with the convenience of a single serving size at just $14.00
2. Chicken Curry with Black Rice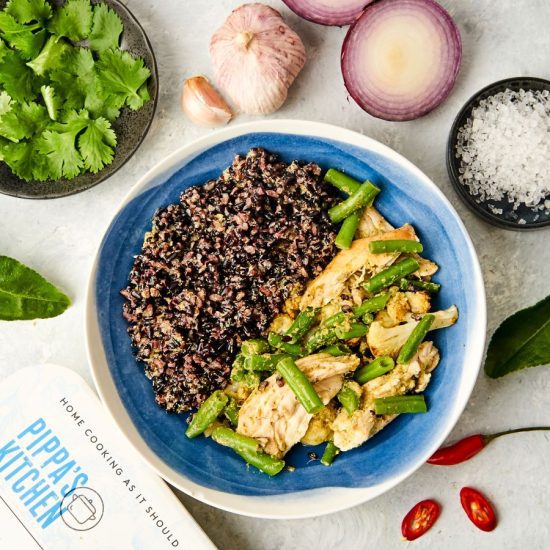 Experience the flavours of our Green Chicken Curry with Black Rice. Tender chicken, paired with roasted cauliflower, green beans, and organic black rice, all elegantly topped with a light and aromatic Thai Green curry sauce.
This delightful dish is not only a treat for your taste buds but also caters to dietary needs, being both gluten-free and dairy-free. We use a medley of carefully selected ingredients, including ginger, black pepper, garlic, salt, creamy coconut, organic black rice, spring onion, flavoursome chicken stock, lemongrass, cumin, spicy chilli, succulent chicken breast, fragrant roasted cauliflower, kaffir lime leaves, and fresh coriander. Savour the harmonious blend of flavours and textures in this satisfying meal that will leave you feeling nourished and satisfied. Grab a 350g pack (1 serve) for only $14.00
3. Pork & Chorizo Fried Rice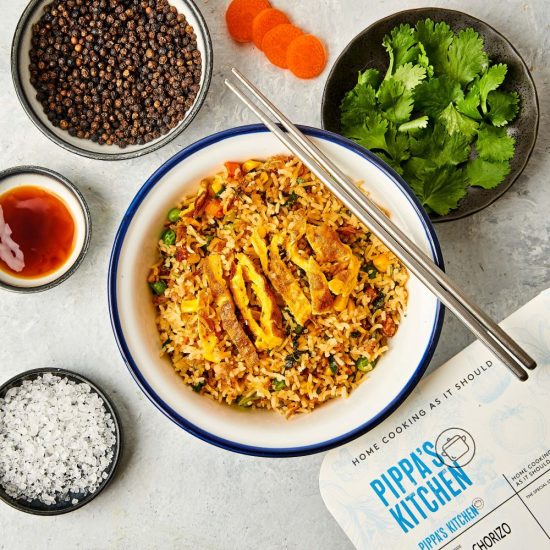 Experience a flavour-packed delight with our Pork & Chorizo Fried Rice. This extraordinary dish combines the bold and enticing flavours of chorizo, ginger, garlic, sesame, soy, and oyster sauce. Bursting with freshness from aromatic herbs, it is a true culinary masterpiece that will captivate your senses.
Crafted with care, the ingredients include onion, flavorful chorizo, crunchy fried shallots, fragrant basmati rice, carrot, corn, sesame seeds, gluten-free oyster sauce, gluten-free soy sauce, spring onion, free-range eggs, spicy chilli, peas, sesame oil, high-quality organic pork mince, and fresh coriander. Satisfy your cravings with our generous 350g portion, perfect for a single serving, priced at $14.00
4. Cajun Chicken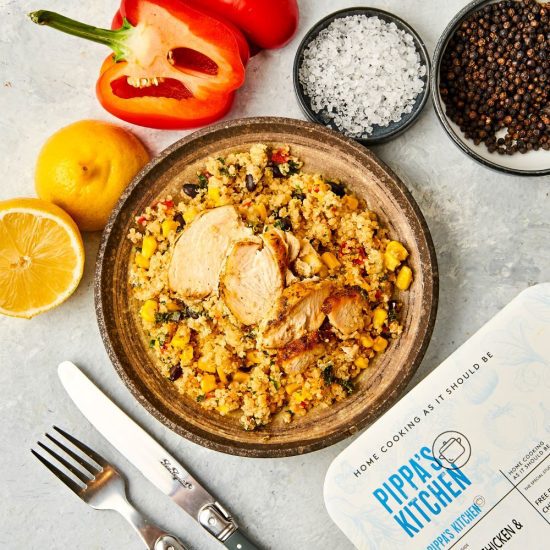 Savour a burst of flavours with our Cajun Chicken Quinoa. The spicy seared chicken breast, expertly sliced and served over a bed of nutritious quinoa salad. This vibrant salad includes delightful elements such as corn, capsicum, black beans, and kale, creating a symphony of textures and flavours.
To elevate this dish further, a citrus coconut sauce is delicately drizzled over the top, adding a touch of tanginess and creaminess. Indulge in this perfect light dinner for a pleasant evening, with only 370 calories per serving. Our generous portion size of 350g ensures a satisfying meal priced at $14.00.
Rest assured, this dish caters to dietary needs as it is gluten-free and dairy-free. Crafted with care, our ingredients include garlic, basil, flavorful chicken stock, tender chicken breast, protein-rich black beans, wholesome quinoa, aromatic thyme, black pepper, zesty lemon, paprika, nutrient-packed kale, vibrant capsicum, spicy chilli, savoury onion, salt, creamy coconut cream, sweet corn, and aromatic fennel.
5. Satay Vegetables with Rice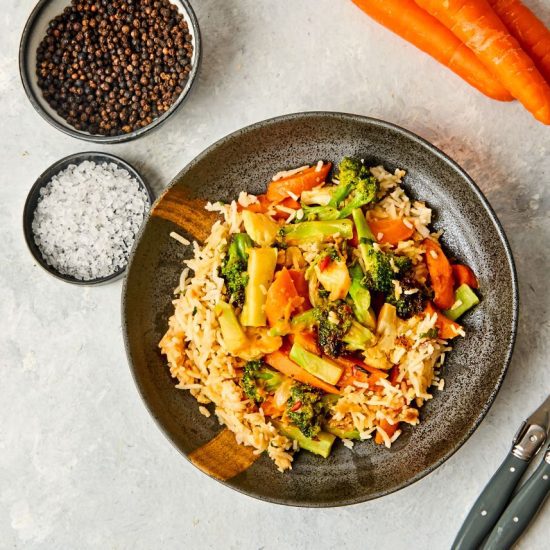 Indulge in the mouth watering flavours of our Satay Veg with Rice. This delightful dish features a colourful medley of vegetables including broccoli, carrot, onion, and cauliflower, all tantalisingly coated in a rich and creamy satay sauce.
Paired perfectly with fragrant jasmine rice, topped with aromatic shallots and fresh coriander, this combination creates a harmonious and satisfying meal. Prepare to experience a symphony of tastes and textures that will leave you craving more. Click here to order now
Home Cooked Meals Delivered to your door in Melbourne:
Pippa's Kitchen is a premier service that brings the convenience of home-cooked meals directly to your doorstep in Melbourne. With a commitment to quality and taste, Pippa's Kitchen offers a wide range of delicious and nutritious meals prepared with fresh ingredients and a touch of culinary expertise.
What sets Pippa's Kitchen apart is their extensive delivery network, covering most areas of Melbourne. Regardless of your location within the city, you can enjoy the convenience of having wholesome meals delivered right to your home or office.
Whether you have a busy schedule, lack cooking skills, or simply want to take a break from the kitchen, Pippa's Kitchen has you covered. Their menu features a diverse selection of meals catering to different dietary preferences and restrictions, including vegetarian, vegan, gluten-free, and more.
By choosing Pippa's Kitchen, you can savour the taste of home-cooked goodness without the hassle of grocery shopping, meal planning, and preparation.
Below is a list of Pippa's kitchen delivery days:
● Melb Metro – Friday
● Mornington Peninsula – Friday
●Geelong / Bellarine – Saturday/Wednesday
● Gippsland – Thursday
● Yarra Valley – Friday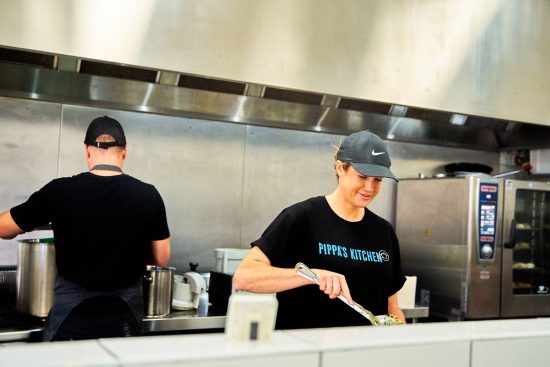 Here at Pippa's Kitchen, we have a three step ordering process:
Step #1
Go to our portal to look at our range of pre-made meals, healthy treats, slow-cooked meat and more. Once you find the meals that you like, you can book the meals to be delivered to your Melbourne address.
Step #2
Once we receive your   order, our chefs will cook your chosen meal in small batches and prepare it with great attention to detail.
Step #3
Your meal is then delivered at your doorstep by one of our executives.
About The Author: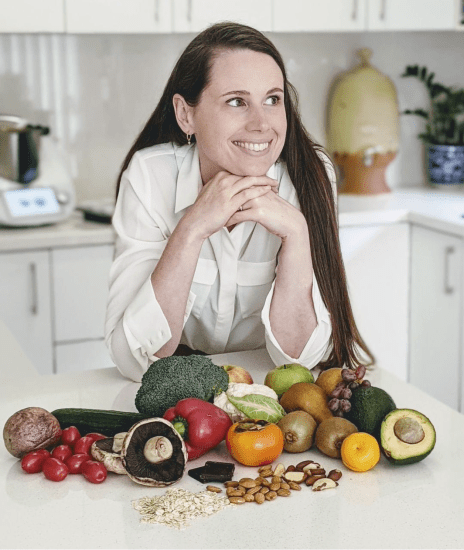 Margo White is a Clinical Nutritionist who holds a Bachelor of Health Science in Nutrition and Dietetic Medicine. Margo uses food as medicine to gently nourish, strengthen and support health. She believes that life is about balance, and shouldn't be restrictive. Margo advocates for an 80/20 way of eating; 80% whole foods and 20% soul foods – soul foods to nourish your soul and bring you great joy. When she's not seeing clients in the clinic she is either in the kitchen developing recipes or creating content and blog writing for various aligned food companies.