The challenges of finding work-life balance can leave you with little time or energy for cooking at the end of the day. If you're searching for a little help in the culinary department and meal delivery Melbourne locals love, it's a great idea to do your research about what you're getting.
Types of Prepared Meal Delivery to Consider
Let's look at the difference between meal delivery services. Is there a 'better' alternative for family meal delivery in terms of health and other important factors to consider?
Classic Takeaway & Hot Meals
Here we are referring to ordering food delivered from a local restaurant. This is often associated with fast foods, however thanks to recent booms with food delivery services you can now find a whole range of cuisines and healthier options to pick from.
Although this option may make your life easier at the time, ordering food this way can be costly in the long run and is not sustainable for living a healthy lifestyle.
Prepared Meal Delivery Services
Prepared meal delivery services entail pre-prepared food and meals which are chilled or frozen. After ordering, your stack of prepared meals is delivered to your door in a cold box (often a weekly delivery). All that's left to do is store and heat to eat!
Some of the perks of prepared meal delivery this way include healthy ingredients and meal options and home-cooked meals cooked by trained chefs. And for anyone requiring specific dietary requirements, you can find options that cater especially to you.
Other advantages of prepared meal delivery are:
There is little preparation. Just heat and eat!
You can keep it in the fridge or freezer until needed.
You can order meals that cater to larger family sizes if required.
Customers can order according to diet preference, vegetarian or vegan diets for example.
You can take allergies and intolerances into account. For instance, you'll be able to find meals suitable for gluten-, egg- or dairy-free diets.
It's super fresh and healthy. For those who are time-poor but still need to keep a healthy diet, these are the way to go as they offer all the benefits of a healthy home-cooked meal, delivered right to your doorstep.
Be mindful that 99% of ready meal companies on the market are mass-produced, adding sugars and preservatives to prolong the shelf life. At Pippa's Kitchen, we make our food to order and don't give more than 2 weeks on our fresh food! Our commitment to quality ingredients cooked in small, fresh batches means we can provide you with quick, delicious and healthy prepared meal delivery. Small batch freshness!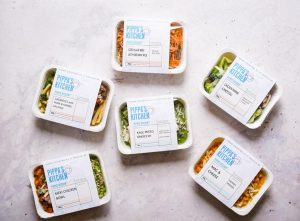 Food Box
If you still enjoy cooking, however meal planning and shopping are where you lack time or motivation, then food boxes may be suitable for you. With a food box, you get fresh ingredients delivered to your door and it has benefits for convenience, sustainability, and your hip pocket.
Each meal is easy to make and is packed with all the ingredients you should need for preparing your meal. In other words, the ingredients are pre-measured for just one meal, which gives you very little food waste. The professionals know exactly how much of each ingredient you need for each portion.
It also saves you having to plan your meals, taking some stress out of your week. In addition, you'll have meals without buying ingredients that you would never use again. For instance, if the recipe calls for fish sauce and you never use it for other dishes, you won't have to buy a whole bottle just to make one meal.
There are a few drawbacks to this type of meal delivery, including:
They assume you have pantry basics, such as oil, flour, butter, milk, pepper, salt, vinegar and soy sauce. Meaning you still need to check the recipes in advance to make sure you have everything.
There can often be a lot of packaging, which may deter some individuals who prefer a more sustainable and eco-friendlier lifestyle.
Conclusion
Meal delivery services have become more popular as people prefer or don't have the time to cook. From Pippa's Kitchen you can get quality prepared meals, delivered to your door. Cooked in small batches for freshness and packed with nutrition and taste that will impress. Try us the next time you need a healthy dinner solution.
Order online or talk to us at 0448 885 266.